THE GLASS IS ALWAYS CLEANER
x
$15.00
Works on mirrors, windows, computer and television screens, phones and tablets.
EVERYTHING AND THE KITCHEN SINK
x
$15.00
Works on appliances, cabinets, countertops (granite, laminate, sealed marble, Corian, Formica), stovetops, range hoods, walls, sinks, stainless steel and grills.
$15.00
Works on toilets, sinks, tubs, showers, tile (glazed, ceramic, porcelain), grout, shower doors and curtains, and bathroom fixtures.
$15.00
Works on flooring surfaces such as hardwood, bamboo, marble, ceramic tile, laminate, stone, linoleum, concrete and quarry tile.
SAY HELLO TO OUR LITTLE FRIENDS
When you're ready for more Truman's, it's time for a Refill Kit. Each cleaner has its own Refill Kit containing 4 cartridges. Why do we ship in 4-packs? It reduces packaging and fuel waste, and keeps costs low for you. It's a win-win. Unless you hate Planet Earth and saving money. Then it's a lose-lose.

Check out our short video to see how the cartridges work inside Truman's bottles.
watch the video
x
Customer Reviews
Write a Review
Ask a Question
02/11/2020
Robin P.
United States
Where have you been all my life, Truman's?
I LOVE my Truman's! I feel like a religious freak because I keep telling all my friends and family to try this stuff! The products work, the concept is SMART, and the humor is an added bonus! I better stop before I propose or something equally embarrassing!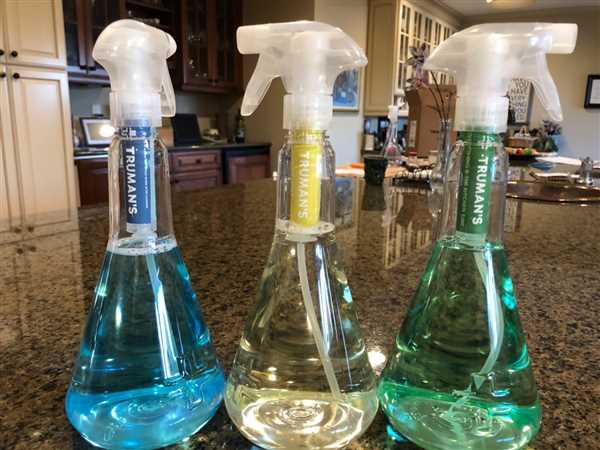 02/05/2020
Genesis E.
United States
Truman's truly clean everything
I love it, I don't have to use a lot of product and it works wonders.
PC
02/05/2020
Peggy C.
United States
Oh where have you been Truman Boy?
I was somewhat hesitant to purchase cleaning supplies etc online since I had never heard if the company and didn't know anyone who had used Truman's. Upon receiving the products I immediately set about using the "shower" cleaner. It my surprise the Bathroom Cleaner worked better than anything I used over the last 40 years. The Kitchen, Floor, and Window cleaners we're all excellent. Where have you been all my life Truman Boy, Oh where have you been charming Truman? Not only are the products excellent but when you add the convenience of receiving your household cleaning supplies right on your front porch or door there isn't a doubt that I've found my new, forever cleaning products! Truman's is the man. You shall be the man now and forever! I will be recommending this product to all my friends and family and yes even strangers!!
02/03/2020
jessica n.
United States
A new and improved Method for Cleaning!
I generally use homemade cleaners or Method as my cleaning products of choice. I was low on cleaning supplies and saw the offer to try something new and non toxic so I went for it. Aesthetically the packaging, labeling and products themselves go, it all brings joy. The clear bottles with just a hint of a Rainbow color! The products weren't overpacked! JOY! Another way Truman's is fighting waste! I busted everything out at one and easily assembled. Love lock and loading!! I was too excited to watch the video and was easily able to engage all bottles for action. I used the glass cleaner first, not a streak, not a stink, nothing but clean. I moved onto the kitchen cleaner. I drink so much coffee there were coffee stains in my porous, rental, countertops. Without me trying the Kitchen Spray took a lot of the staining out. When I went back to wipe again after I spilled on the counter again, the countertop already felt clean. I can't stop running my hands over the countertop. So I was super sleepy and droppped my cup of coffee yesterday am. It happens. I was a little bent but then remembered my new floor cleaner! When they say you could eat off the floors, it is for real. This morning I went with bare feet as a second round of test. More Joy. IT STAYS CLEAN. No left over residue or post wiping involved. I used the shower spray in a tub I've been avoiding bc the last living creature in it was my dog and I was using coconut oil to keep her still (total mess). The shower spray practically melted the grime and made it super simple to clean up. I will be taking a bath tonight. Thank you for your ingenuity, creativity, humor, realness, beautiful products that do their job and more. And thank you for the toxin free choice. There aren't many out there and a lot of them smell good but don't quite do the job. I am sold, people. I can't wait to try more.
02/02/2020
Natalia Z.
United States
Awesome!
So far I love the products!
Frequently Asked Questions
With a Starter Kit, you'll get to try all 4 of Truman's non-toxic home cleaners risk-free for 45 days. You can order with a Refill Plan and save, or get a standalone Starter Kit and order from our refill store as needed. Simply log in after ordering your Starter Kit, and you can personalize your plan or access the refill store.
After ordering your Starter Kit with a Refill Plan, you'll receive Refill Kits after 45 days that includes 4 refill cartridges for each cleaner. We'll send Refill Kits every 6 months after that, til' death do us part. (Or, you know, until you log in and personalize your delivery schedule.) Overachievers can order more refills anytime on our store or by text: 415-TRUMANS (878-6267). You can also pause your subscription if you're a slob.
You can clean with Truman's on virtually every hard surface not harmed by water. Check out our full list of surface applications below.
Everything and the Kitchen Sink
- Appliance Interiors and Exteriors, including Stainless Steel
- Stovetops
- Cabinets
- Countertops (Corian, Formica, Granite, Laminate, Sealed Marble, Quartz)
- Grills, Barbecues and Patio Furniture
- Range Hoods
- Garbage Cans
- Walls
- Sinks and Washbasins (of course!)
The Glass Is Always Cleaner
- Windows (including those with tint)
- Mirrors
- Electronics Screens (just spray onto a cloth instead of directly on the surface)
- Lucite/plexiglass
More Shower to You
- Tile (glazed, ceramic, porcelain)
- Shower Walls
- Grout
- Bathroom Fixtures
- Sinks
- Shower Curtains and Doors
- Toilets and Tubs
- NOT for use on natural stone or marble
Floors Truly
- Hardwood Flooring
- Ceramic Tile
- Sealed Wood
- Bamboo Flooring
- Concrete
- Laminate Flooring
- Linoleum Flooring
- Stone
- Quarry Tile
- Marble
- Terrazzo
Truman's products should not be used on glazed ceramic or plastic.
View your account details here.
First, that's not a question. Second, you can view all of our FAQs here. This is just a list of our most popular questions. Go hang out with the less popular ones. We won't judge.